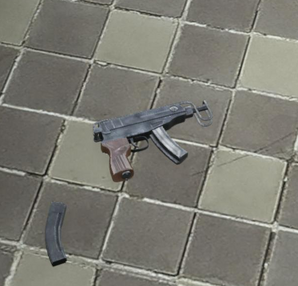 The Skorpion is a .32 Caliber fully automatic, secondary PDW (Personal Defense Weapon) in Breaking Point. Ammunition is common among general military spawns (Hangars, tents, ATC) but overall the PDW would be the better choice.
Category: Personal Defense Weapon
Spawn Location(s): General Military
Rarity: Uncommon
Damage: Unknown (Maybe 889)
Ammo:
Range: 100 m
Zeroing:
Rate of Fire: Medium
Recoil: Low
Noise: Low
Firing Mode: Semi/Full
Ad blocker interference detected!
Wikia is a free-to-use site that makes money from advertising. We have a modified experience for viewers using ad blockers

Wikia is not accessible if you've made further modifications. Remove the custom ad blocker rule(s) and the page will load as expected.