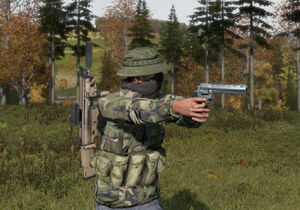 The Taurus Raging Bull is the six-shooter equivalent to the Desert Eagle with the added bonus that the Bull is much more accurate than the Deagle.
Category: Pistol/Siderarm
Rarity:

Rare
Spawn Location(s): Military Crash (1.73%)
Damage:

Unknown (6000+? Claims of being able to knock out players at full blood with body shots)
Ammo:
Range:

Unknown
Zeroing: None
Rate of Fire: Slow
Recoil

:

Moderate
Noise: Very Loud
Firing Mode: Semi
Attachments: -
Alternate version(s): -
Differences to the DayZ version: -
The high blood damage of the Bull means that it is a good snipers pistol, as it can be whipped out for a CQC weapon in a pinch instead of needing a second primary in a players backpack.
Due to the noise it makes, this monster is not recommended as a Zed cleaner.
Ad blocker interference detected!
Wikia is a free-to-use site that makes money from advertising. We have a modified experience for viewers using ad blockers

Wikia is not accessible if you've made further modifications. Remove the custom ad blocker rule(s) and the page will load as expected.