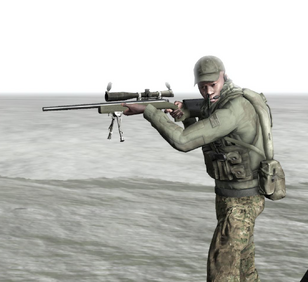 The M40A3 is a bolt action rifle that fires the 7.62x51mm round. It was made as the military version of the Remington Model 700. This version is missing the ghillie camo near the scope, for that version see M40A3 (Camo)
Category: Sniper Rifle
Rarity: Rare
Spawn Location(s): Barracks (0.16%), Military Crash (0.69%)
Damage: 8000
Ammo:
Range:  800 m
Zeroing:  300 - 800 m
Rate of Fire: Very Slow (Bolt Action)
Recoil: Medium
Noise:  High
Firing Mode:  Bolt Action
Attachments: Bi-pod, 8x Scope
Alternate version(s):
Differences to the DayZ version: This variant of the M40A3 doesnt freature a ghillie netting around the barrel and scope of the gun make it a bit harder to hide when in trees or tall grass.
Ad blocker interference detected!
Wikia is a free-to-use site that makes money from advertising. We have a modified experience for viewers using ad blockers

Wikia is not accessible if you've made further modifications. Remove the custom ad blocker rule(s) and the page will load as expected.