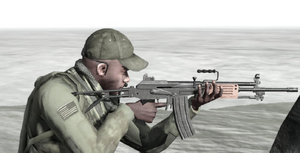 The Galil is an Israeli Assault Rifle/Light Machine Gun made to chamber the 5.56x45mm NATO and 7.62x51mm rounds, in game it uses the 5.56x45mm Galil Mags. This version is the Assalt Rifle and Machine Gun (ARM) variant.
Category: Light Machine Guns
'Rarity: 'Rare
Spawn Location(s): Military
Damage: 3555
Ammo:

35Rnd. Galil
50Rnd. Galil

Range:  
Zeroing:  
Rate of Fire: 
Recoil: 
Noise: 80m 
Firing Mode:Semi/Auto
Attachments: -
Alternate version(s): - 
Differences to the DayZ version: 
Ad blocker interference detected!
Wikia is a free-to-use site that makes money from advertising. We have a modified experience for viewers using ad blockers

Wikia is not accessible if you've made further modifications. Remove the custom ad blocker rule(s) and the page will load as expected.