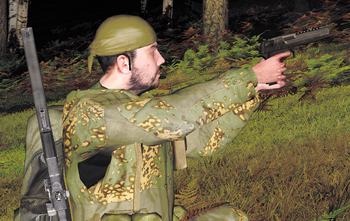 This handgun, often reffered to as a "Deagle" or "One-Handed Sniper" is truly a beast of power that lacks all subtlety along with the rest of the Magnum weapons in Breaking Point. It is a prefered choice of handgun for snipers who are going for some vehicle kills, as it combines the close quarters manuverability of a submachine gun with the power of a battle rifle.
Category: Handgun - Magnum
Rarity: Rare
Spawn Location(s): Military Crash (1.04%)

   

Damage: 9000 
Ammo: 
Range:  100m
Zeroing:  No
Rate of Fire: Slow
Recoil: Very High
Noise:  Very High
Firing Mode: Semi
Attachments: None
Alternate version(s): Desert Eagle Black, Desert Eagle Modern Big Muzzle, Desert Eagle Gold, Desert Eagle Silver
Ad blocker interference detected!
Wikia is a free-to-use site that makes money from advertising. We have a modified experience for viewers using ad blockers

Wikia is not accessible if you've made further modifications. Remove the custom ad blocker rule(s) and the page will load as expected.