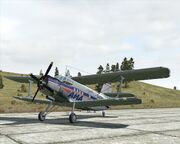 The An-2 is a biplane in Breaking Point. It is a great troop transport vehicle, and can be easily landed in fields by a skilled pilot.
Seats: 16
Item Slots: 80
Weapon Slots: 10
Backpack Slots: 15
Top Speed: 258 km/h
Tank Capacity: 1000L
Armament: -
Similar Vehicles:

-
Ad blocker interference detected!
Wikia is a free-to-use site that makes money from advertising. We have a modified experience for viewers using ad blockers

Wikia is not accessible if you've made further modifications. Remove the custom ad blocker rule(s) and the page will load as expected.